Another season has slowly gone into its "final third" and we met us again with our friends, modelers, antique enthusiasts, simply with all the good fellows from the MG-Bern "Modellfluggruppe Bern" on 22nd September at Mühlethurnen.
We missed the traditional "Antik-Modellflugtag" being held annually in September which usually offers nice and pleasant weather, but this event was equally the same. Even the weather forecast has promised rains and lower temperatures, in the end, the Saturday morning was awakened by the sunny day and warm breeze. Such nice weather could only promise a perfect day for a flight. What we did, of course.
Kurt has just landed with his nicely built Satyr (designed by Jiří Smola in 1943) at that time we arrived at the place. Followed by Thomas with his Hummel (design. Helmut Antusch, 1937) powered by nicely restored sparky Kratmo.
Then I grabbed my e-powered glider and thrown it in the air and stayed in thermal lifts for the next thirty minutes reaching the peak altitude above ground level of 260 meters. Nice flight.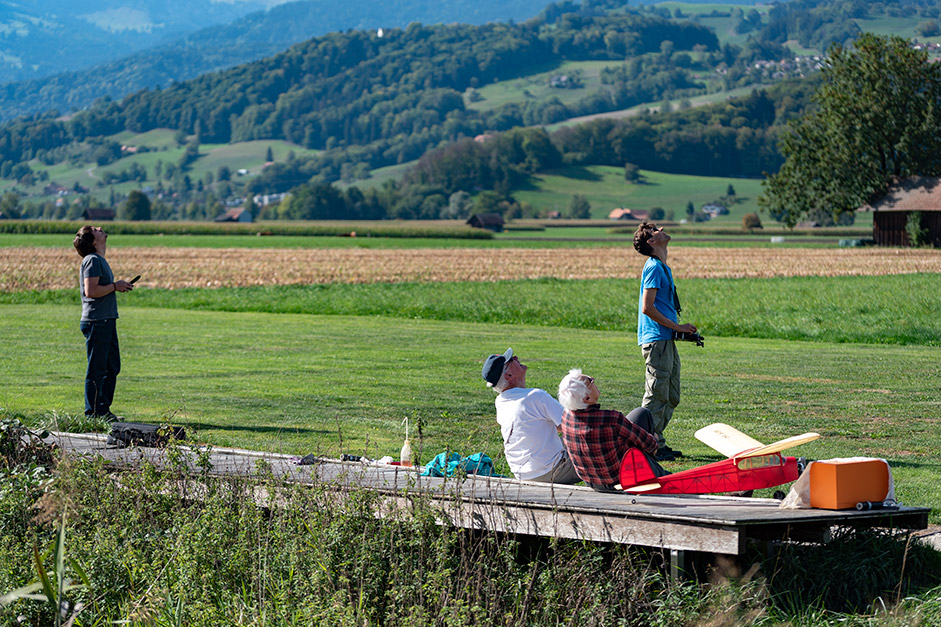 Thomas then prepared his Riedstern (design. Alwin Kuhn, 1941) powered by Dyno 2,04ccm diesel engine. Both model and engine are original and kept by owner in excellent condition. It was a true pleasure to see this aged model still doing its job as these times when first diesel engines came to the hobby.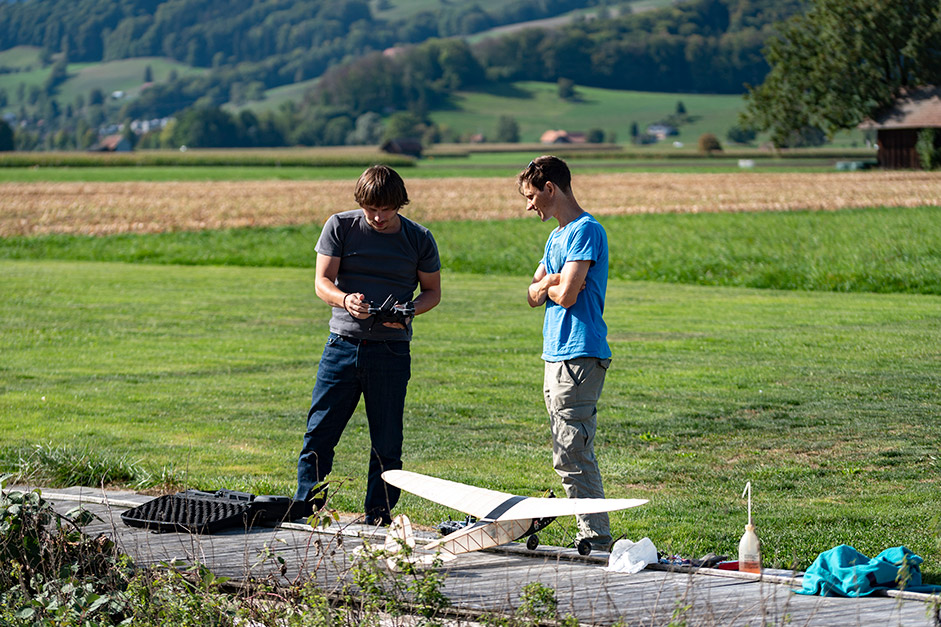 I have tried to follow Riedstern with my quad and film it to create a short video later. This task is not as easy as it seems to be, although there is a real-time HD video transmission from the camera to the ground station. The final outcome is available below. I could say instead of "hunting" the model with a drone I would stay in the air filming the fly-bys only, we will see next time.
We then made a break for the lunch and spent nice time speaking about our beloved hobby, engines, vintage aero models even modern stuff came to the word.
Later afternoon we went to visit Heinz who expected us at his home. He then showed us his workshop where he builds his models. One of his latest and from my point of view, most notable model is nothing else than legendary Czech aero model named "NL-532 Netopýr" (The Bat in English or Fledermaus in German) designed by Ladislav Neubert in 1942. Why did I mention this model is "most notable" for me? Because my friend Peter has drawn this model completely new using CAD software and I converted every part into CAM and milled two kits on my CNC machine. I was quite nervous when I realized one kit came to Peter and the second one to Heinz, who is undoubtedly one of the best model builders I met. You can see and enjoy his craftsmanship on the photos below.
I would like to thank all my friends of MG-Bern for this exceptional and valuable event and looking forward to meeting us again in the next season.
You can read an article about this day written by Peter and published on the MG-Bern website here.
I would like to especially thank my beloved wife for photos she took for us.